Save the date to spend some quality time with your old, old friends.
Fourth of July weekend this year!
Thats right, we want you to save the dates of July 4-5, 2008.
Spend a little time with some old friends Friday afternoon and that evening for a mixer at "The Knuckle". We are trying to line up a golf outing Saturday morning. Saturday evening we will be meeting for a sit down meal and program. More details and registration information will be put up on this site as they become available, but for right now it's important for you to confirm your current email. Our little group has spent quite a little bit of time researching the phone books and internet trying to get an email or snail mail address for everybody, and have failed. So please forward this site to anyone from our class who you have an email..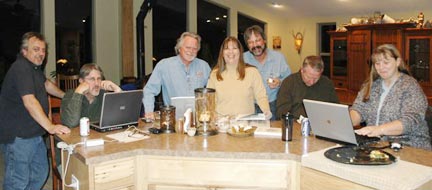 A Special hello from some of your friends who are working on this party. Those pictured are, Brent Teachout, Dan Martin,
Zane Ziegenbein, Penny Shipley-Kutz, Brett Moravec, Daune Edlund, Cindy Conway-Swenby.
Not pictured is me Alan Sewell, Tera Wenberg-Daly, Cari Matlick-Fraisier and Gary Gould.